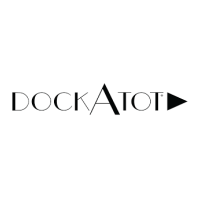 Get Amazing Deals, Coupons, and Offers When Shopping at DockATot
Get great deals and coupons for DockATot and earn cash back while you shop. Use our Chrome Extension to always get the best financial offers and rewards.
Coupons, Cashbacks & Promo Codes
Cashback 1
Online Purchase
Explore Docks for Life's Messy Moments | Shop Now.
Introducing the Circle Play Mat - Shop Now.
Shop Our New Sleep Essentials Collection.
DockATot Grand | Our Multitasking Stage 2 Dock for Babies Age 9-36+ Months.
Shop the DockATot Products You Love for Less, While Supplies Last.
DockATot Bundle | Save Up to 15% When You Purchase Over $300 Worth of DockATot Product.
Deluxe+ Docks | The Ultimate Stage 1 Docking Station for your Baby Ages 0-8 Months Old.
Free Shipping on Orders $75 or More | Shop Now.
Sleep Bags and Sleep Rompers in Ginger Chambray | Shop Now.
New Totes & Tuffets | Shop Now.
Fields and Flora | Shop the New Collection.
Swaddle Sets | Created to Provide a Calming Touch and Comfort for Babies During Rest Time and Beyond.
Sleep Bags | Cosy and Secure Sleep with Our Smartly Designed New Wearable Blanket.
Sleep Bags and Sleep Rompers in Marine Chambray | Shop Now.
Elevate Sleep Time with Thoughtfully Designed Swaddles, Sleep Bags and Rompers.
New Body Pillows | Shop Now.
Explore Smartly Designed Nursing Pillows | Shop Now.
Sleep Rompers | A Rest Time Essential Designed Specifically for Toddlers on the Move.
Premium Docks, Accessories and Parenting Essentials | Designed with Style and Love in Europe.
40% Off Select Items Sitewide Plus Free Shipping with Code YAY40.
Frequently asked questions
How do I download the extension?
Does Paperclip work with Chrome and Android?
How much money do I get in advance?
How long do I have to pay back my loan?
What can I pay for using my Paperclip earnings?
What happens when I watch financial advice clips?
Download Paperclip Today!
Paperclip takes the stress out of finances! Now you can spend more time enjoying life instead of worrying about money and bills. Download Paperclip today to check it out for yourself!